Cycling Portugal is our favorite way of discovering the country. If you are planning to discover Portugal by bike, check our quick guide, inspired on our experience of hosting Portugal Bike Tours, that showcases the best tips to make the most of your bike tour in Portugal.
Portugal is know to be one of the world's most searched for holiday destinations. The country's popularity has been increasing enourmously, as more and more guests visit and praise its gastronomy, culture, natural beauty and authenticity. We couldn't agree more - after all, we live here - and we've been benefiting from its climate and lifestyle for quite some time now. The country is doing a great job at promoting but also at securing its identity and its culture. One of the best ways to tap into the authenticity of the portuguese lifestyle and traditions is travelling by bicycle. Cycling Portugal is a great way to get to know the country, especially the less urbanized areas, where you'll find the quaint villages, the vineyards, the fresh fish, the mediterranean cuisine and, for us cyclists, the absence of cars. Even though the country lacks big infrastructures like cyclepaths, it makes up by having great backroads, from north to south, that you can use to travel in. So, the question remains:
WHY CHOOSE PORTUGAL AS A CYCLING DESTINATION?
Weather, culture, gastronomy, geographical diversity, history, nature… you name it.
Great, accessible, diversity: With 10 million inhabitants and 92,212 km2 of surface, it's considered one of the most geographically diverse countries in Europe and home to several UNESCO world heritage sites and traditions - small enough country for you to cover a great portion of it on a bike to get to know lots of different heritage sites, traditions, flavours and natural beauty. Portugal is home to amazing beaches, glacial valleys, big mountain ranges, wine countries and national parks.
Tourism oriented: Tourism is one of the country's main activities, which means you can find many types of hotels everywhere, overall good english knowledge, good transportation and lots of options of restaurants or cafés. Cycling in Portugal, you'll find great infrastructures to support your stay: from amazing 5 star hotels to charming palaces and farms that have been restored with great care to host tourists from all around the world. Home to several UNESCO world heritage sites, we proudly take care of our touristic attraction and destinations. 
Great cycling climate all year long: By Facing the north Atlantic Ocean, it's home to a maritime climate, with average annual temperature of 16 Degrees and sunny weather all year long, making it perfect for cycling in Portugal. In July or August, it's best to choose the region of your liking wisely, as it can be too hot for cycling in some interior areas. Cycling Portugal, you'll experience moderate Autumn and Winter is topped by a sunny spring and summer. This makes it a great option as a cycling holidays destination, either to start off your season or just riding throughout the summer. Click to read on our "winter cycling in Portugal" article
Rich history and culture: Portugal has been the epicenter of trade routes, that once led the strongest naval fleet the world had ever seen, spanning over 600 years. Visiting Portugal, you'll encounter a country of explorers and one of the first to adventure into the see and discover cultures in Africa, Asia, India and the Americas, which is still today visible in it's language, the third most spoken in the world. The "Portucale" county was formed in 1139 by D. Afonso Henriques, in an epic family battle. But even before it's foundation,"Lusitania" was inhabited by Romans since 45 BC, the Visigoths, the Moors and many others. Today, Portugal is a sovereign nation-state which prides itself of being a part of Europe and having a rich and strong history and identity and as a petite country opened to the world, Portugal has always embraced other cultures and arts. Nowadays, you will find that modern and contemporary architecture, literature, music and theatre, all blend with millennial traditions and craftsmanship. A bike tour in Portugal provides a relaxing and authentic way to discover the country.
Great food and wines: What is more important after having a tough and exhausting ride during the day than to enjoy a delicious meal? Regarding food, Portugal is definitely worth a visit: Being bathed by the Atlantic ocean means Portugal thrives on fantastic, fresh fish and seafood, expertly used in its trademark mediterranean cuisine. But the country's great variety of cultures and landscapes means each region has an endless variety of cheese, wines and local gastronomy, so if you are cycling Portugal, you'll get to discover the Douro and Alentejo have been voted best wine countries in the world, not just because they are home to some of the best wine tasting experiences, but also because of their picturesque and authentic landscapes, people, wineries, farms and culture. So, everywhere you go, you'll find it easy to savour great, authentic and simple food. From Michelin star restaurants to local "tascas", Portugal is a foodie's heaven.
Great backroads and trails, with small car-density: Most of the country's population is condensed around Lisbon, Porto and cities nearby it. The countryside is much less dense in population, and so is some of the coastline, natural parks, etc. For instance, the region of Alentejo, which is roughly the size of a country like Belgium, only has 400.000 inhabitants - this causes the backroads to be great to to ride on your bike, in an almost car-free environment, where you can visit the local vineyards - that creates a great atmosphere for a peaceful group ride. Also, many regions have invested in the creation of bike parks and in maintaining and improving trails, making it perfect for mountain biking.
WHEN IS THE BEST TIME TO GO CYCLING PORTUGAL?
Different regions are better explored in different times of the year...
Cycling Portugal, you'll find a better experience in off peak season – July and August can be too hot for cycling, and there will be more tourists visiting during these months. You can do a bike tour in Portugal during the winter, the earliest months of the year, from January to March and enjoy the mild temperature, with an average of 17oC to 19oC, making it a great option for road cyclists and cycling groups who wish to improve their skills for the upcoming season. In April, May and June, you'll benefit from the Spring time and early summer weather, making it a great season for leisure cycling and bicycle touring, with the flowers and crops in full bloom. September, October and even November are great for cycling as well, as the summer transitions into autumn for a great ending of the year - in September and October you can also witness harvest season, particularly in the wine regions of Douro and Alentejo.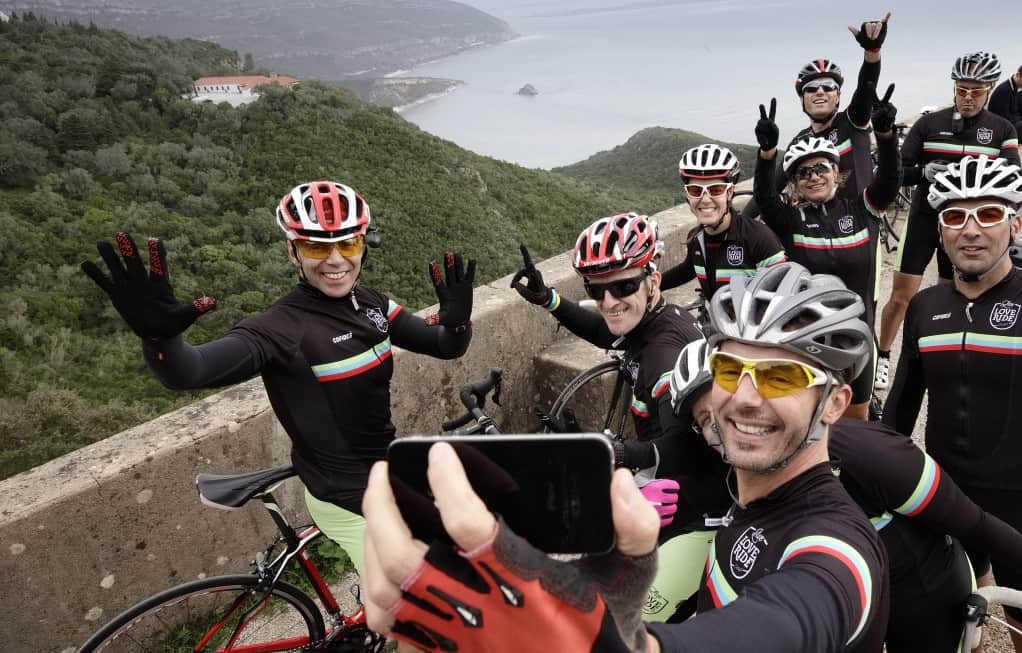 HOW SHOULD I PLAN MY TRIP?
Go on a self-guided adventure or choose a bike tour from a local supplier...
Fly in: To reach Portugal, the best way is to fly to the airport that is the closest to the startpoint of your ride. You can choose the airport that best suits the region you wish to start discovering -  Porto airport is perfect to discover the North of Portugal, the Douro, to cycle to Santiago de Compostela by the Minho region; Lisbon airport is a better option to discover Sintra, the silver and blue coasts or Alentejo wine country; Faro airport will provide you a gateway into the south of the country, to the southwest coast and the Algarve. These are the three main airports in continental Portugal. You can also choose to fly to Ponta Delgada, in the Azores archipelago, to discover one of the most naturally beautiful destinations of the world, or to Funchal, in the island of Madeira.
Rent a bike and plan the route for yourself: If you are an experienced rider, looking to expore the country on your own, maybe the best option is to look for Portugal Bike Rentals that can provide you with good, reliable bikes - Portugal is a safe country, that can be explored on a self-guided adventure - just make sure you have the appropriate bike routes, to steer you away from the traffic. You can also explore several options that are more oriented to cycling, like the following:
National Mountain bike centers ( "Centros de BTT"):  More than 1330km of identified trails in several mountain bike centers across the country, with special incidence in the North of Portugal
National cycletourism network: A project designed by a portuguese road project engineer and cycle touring enthusiast Paulo Guerra dos Santoos, with over 1375km of macadam trails and backroads, to ride from north to the south of Portugal.
Ecovia Algarviana: A 300km route in the Algarve, great for touring in the South of Portugal. Via Algarviana is a Great Pedestrian Route (GR13) which connects Alcoutim to Cabo de São Vicente, with a length of 300km, mostly installed in the Algarve mountain . It is intended that became part of the Trans-European routes, linking to the E4 and E9. The route crosses eleven municipalities in the Algarve (Alcoutim,Aljezur, Castro Marim, Tavira, S. Brás de Alportel, Loulé, Silves, Monchique, Lagos, Portimão and Vila do Bispo) and about 21 parish councils.
EuroVelo1: From east to west, the Spanish border to Sagres, EuroVelo 1 crosses the Algarve in its entirety - over 200 kilometres of coastline - enough to suit everybody, from sheltered dunes to rocky coves, from tiny bays to vast stretches of open sands, from shallow lagoons to the crashing surf of the wild Atlantic.
Go on a bike tour in one ( or two) regions: There are several companies offering Portugal Bike Tours, operating in different regions. From assisted, self-guided tours to fully guided experiences, choosing to go on a planned experience gives you the opportunity to discover great trails but also hotels, restaurants, attractions, etc. Although the country's extension is not too big, it can take you nearly one week to fully discover a region like the Alentejo, Douro, Algarve or others. So the best option is either book one or two one-week bike tours in the regions you are more keen to discover. Keep in mind that different regions are best suited for different riders, as they have specific altimetries, landscapes and attractions. See below for a list of regions and how to discover them on a bike!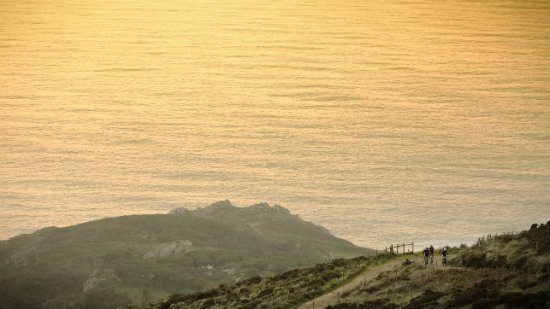 WHAT ARE THE BEST REGIONS TO GO CYCLING IN PORTUGAL?
Explore the ones that best fit your riding profile...
Cycling in Portugal: The Douro valley and International park
When to go: March to June; September to October ( Harvest season)
Type of rider: Intermediate to Expert cyclists
Bike type: Road or Touring bike
Terrain type: Hilly
Duration: 5 to 7 days
The Douro valley, in the north of Portugal, is a really special place for a bike tour. The best way to reach it is flying in to Porto airport, where the Douro river meets the sea and where the Port wine cellars are located. Being the world's first demarcated wine region, it has plenty of cellars, farms, viewpoints, restaurants, museums and activities for you to ride by and enter ( although we reccommend visiting the vineyards only AFTER…). This is where Port wine is originally from, and also produces great red and white wines ( 2011 was a great harvest, so if you find any wine left from that year, grab a hold of it!). The region's best areas to ride are after Peso da Régua, where the wine region begins - you can reach Peso da Régua by car but also by boat, which goes up river from Porto, or even catching the train in the beautiful São Bento station in Porto ( also, check out the historical train, that runs in some seasons of the year).
To fully explore the wine country, you can start in Peso da Régua and ride alongside the river to Pinhão, while climbing away from the river to Adorigo, Galafura, Alijó, and other beautiful viewpoints. It is a hilly region, packed with long descents and climbs, so advisable only to intermediate to expert cyclists, although there are also a few rolling stages, in which you can get some rest and recover ( mainly the N22 between Peso da Régua and Pinhão). A bit upstream from Pinhão, keep on climbing to São João da Pesqueira and make sure to visit the São Salvador do Mundo viewpoint. From Pesqueira, you can easily reach Foz Côa, Moncorvo or Marialva, and start exploring the second part of this journey, the Douro International Park. Here, you'll find less vineyards, but more olive and almond tree fields. The terrain and the landscape change a bit, becoming more rough and untamed - this is also where you can visit the Foz Côa engravings ( over 30000 years old), and some historical villages of Portugal like Marialva, Trancoso, Figueira de Castelo Rodrigo, and others - due to it's proximity to Spain, most of them have there own fcastle and fortifications.
Descending to Barca D'alva ( and climbing back) and riding alongside the Douro by the spanish border towards Freixo de Espada à Cinta is just mind blowing. As most of the region has private farms and plantations, we reccomend to explore the region on a road bike or a hybrid bike, as it's easier to move around and you'll enjoy a better experience. Another way to explore it is simply by joining a Douro bike tour with Live Love Ride - an excellent way to truly get to experience the lifestyle of this amazing region. Click here to read on about Cycling in the Douro region, on a previous article in this blog, or view the video below, from one of our bike tours in the Douro with Bicycle Touring Pro:
Cycling in Portugal: the Algarve region
When to go: February to May; September to November;
Type of rider: Beginner to Expert
Bike type: Road, Touring or Mountain bike
Terrain type: Mixed - mountainous interior, easier by the coast line
Duration: 5 to 7 days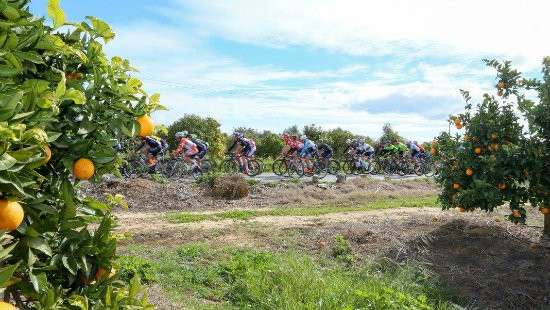 The Algarve is Portugal's southernmost region, and the most popular touristic destination in the country – almost 10 million people visit it every year, especially during peak season. Its great for beginner, intermediate or expert riders and every year welcomes lots of road cyclists and teams/clubs who that want to cycle in Portugal and enjoying meanwhile the warm sun on their skin. The terrain is predominantly flat along the coastline, making it a good option for beginners or if you just want to relax, with two mountain ranges in the interior - the Caldeirão and Monchique. The Algarve extends just south of the Tagus valley to the southern coast of the Iberian Peninsula. Its highest point is Fóia, at 902 metres - one of the epic climbs of the region, in Monchique, which provides for a tough climb but very rewarding views, over the Algarve coastline and even Alentejo.
In the Algarve, you'll also find the Ria Formosa lagoon, a nature reserve of over 170 square kilometres and a stopping place for hundreds of different birds. The length of the south-facing coastline is approximately 155 kilometres. The coastline is notable for picturesque limestone caves and grottoes, particularly around Lagos. It is also home to a big variety of beaches, from small and quiet beaches of the Vicentina Natural Park (from Aljezur to Sagres) to big, sandy extensions in Alvor ou Falésia - in the southwest coast of the Algarve, you can enjoy some great trails in the Rota Vicentina, which are properly marked and will soon be included in the Eurovelo 1 project, which will allow you to cycle by the Algarve coastline from east to west and then upwards by the southwest coast, towards Alentejo. There, you'll find the traditional cliffs overlooking pure beaches, small fishermen villages. Those beaches are flat with a few rolling hills and suit the desire for a smooth ride. Enjoy a stay in a charming hotel such as the "Salgados Palace Hotel" which is only two steps away from the beach or go on a daily drive in the morning riding to Barranco do Velho or Monchique, both beautiful regions around the Algarve. The temperatures fluctuate between 25 °C and 48 °C (118 °F) in the summer. This is also one of the reasons, why so man cork, almond and orange trees grow there. You see: there are plenty of reasons to for doing a bike tour in Portugal.
The easiest way to get there is by flying to Faro. If there is no direct flight which suits your trip or the flights are too expensive, you can book a flight to Lisbon Airport and take a rental car down to the Algarve. There are plenty of good options to choose in the Algarve for a bike tour - explore Live Love Ride's Algarve Bike tours whether as an Algarve Cycling Camp or on a bike tour on the portuguese southwest coast.  Click here to read on a previous post from our blog, regarding "Cycling Algarve - A guide to discover the south of Portugal on a bike".
Cycling in Portugal: Alentejo wine country 
When to go: March to June; September to November
Type of rider: Beginner to Intermmediate
Bike type: Road and touring bike
Terrain type: Mostly Rolling hills, with flat sections and ocassional climbs
Duration: 5 to 7 days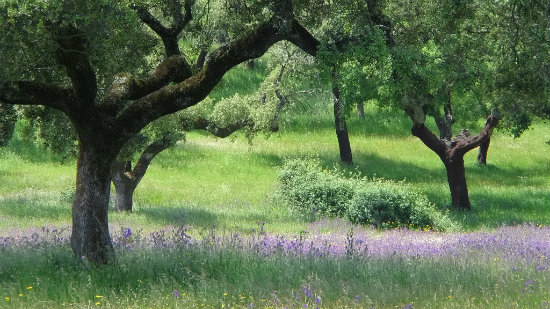 Alentejo, voted world's best wine country in 2014 by USA Today, is one of the regions in Portugal that can fit all kinds of riders. In Alentejo, you'll ride never-ending rolling hills and hidden trails in between vineyards, olive tree and coark oak fields. The car-free roads and trails of the Alentejo provide a great atmosphere for any bike tour in Portugal and its topography makes it a great region for beginner and intermediate riders, as there are few climbs overall. Still, the landscape is extremely varied, from the north Alentejo, near the rugged Marvão and Castelo de Vide mountain range ( Serra de Portalegre)  to the central Alentejo's olive tree and wine fields, from Estremoz to the Alqueva Lake ( europes biggest artificial lake), interrupted only by Sierra D'Ossa's longer climbs. It's better explored on a road or touring bike, as most fields are private and therefore closed by gates and many have cattle.
Alentejo is one of country's less populated regions, with only 400.000 inhabitants total, which means that most of the time you'll be riding by car-free roads and quaint little villages, where you'll get in contact with the welcoming local inhabitants. Restaurants pop in pretty much everywhere, and you get to experience the local gastronomy, rich in herbs, spices, pork, the inevitable bread, olives and olive oil and other elements which are a fusion of moorish and portuguese culture. Alentejo's cultural heritage goes a long way - you'll find a mixture of 6000 year old "Antas" and "Cromeleques", to traces of Moorish heritage in the architecture, medieval castles and roman temples. You'll have the chance to visit local vineyards like Herdade do Esporão, Adega da Cartuxa, Monte da Ravasqueira and taste their wines on the spot. One of our clients best describer it as "tuscany, without the hills".
Any bike tour in Alentejo should include Marvão, Castelo de Vide, Crato, Estremoz, Monsaraz and the Alqueva lake and Évora, the regions' capital and UNESCO world heritage fortified city where you'll find a melting pot of influences that make up the Alentejo's culture. From Évora, you can keep riding to the coastline, where you'll find some of the most amazing beaches in the country - Portugal's blue coast and Vicentina natural park, an area that deserves a bike tour on its own, that we'll cover below! Click here to know more about our Alentejo bike tour - wine country and heritage" or explore more about cycling in Alentejo, on our post here: "A perfect day out riding in Alentejo".
Cycling in Portugal: Alentejo and Algarve's coastline - Vicentina natural park 
When to go: March to July; September to October
Type of rider: Beginner to Intermmediate
Bike type: touring or mountain bike
Terrain type: Rolling hills, long roads, with ocasional short and steep climbs; bike trails by the Vicentina natural park
Duration: 5 to 7 days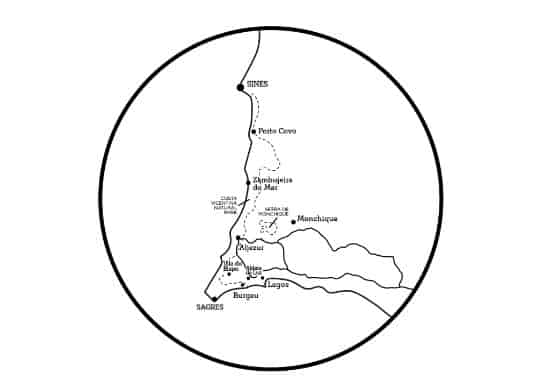 The Alentejo and Algarve southwest coast, bathed by the Atlantic Ocean, is home to some of the best oceanic rides Portugal has to offer, especially in the Vicentina natural park, which starts in Sines and extends its way down south, towards Sagres ( southernmost point of the country) which includes secluded beaches, cliffs, islets and isolated rocks - the Pessegueiro island, in reality a consolidated dune, is anchored two steps from shore, and inland, woods and moors alternate with irrigated and rainfed plantations and production woods. In the Southwest coast and Vicentina natural park, you'll find rare botanical species (mainly on the area of the Sagres and São Vicente capes), varied nesting bird fauna with the white stork building nests on coastal rocks and an important passageway for numerous other birds. Riding alongside the coastline from north to south, the constant presence of the Atlantic Ocean and the mixture of backroads and trails of the Rota Vicentina provides an amazing atmosphere for riding, which can be better experienced on a mountain or touring bike, because of the mixture of pavement along the way - although you might find some climbs along the way, this route is suitable for different kinds of riders, from beginners to expert cyclists.
You can start your bike tour from Lisbon, taking the train to Setúbal or Azeitão and then start your ride there, exploring Arrabida's natural park, before taking the ferry over Setúbal's estuary - pay attention, you might spot some dolphins - to Tróia peninsula, where you can ride alongside the beautiful beaches  and the rice fields in Comporta, heading south to Sines ( pay attention to traffic and crossing in Sines, it can get tricky). After Sines, riding by the coastline, you'll find the beautiful beaches of São Torpes, Porto Côvo and trully start to experience the trails of the Costa Vicentina. Because it is a natural park, there aren't that many hotels in this area, so we advise you to book early and stay in the peaceful "herdades" along the way. Cabo Sardão, Zambujeira and Odeceixe are must see destinations before entering Algarve, towards Aljezur and the beaches of Amoreira, Carrapateira and Arrifana.
Riding south, you'll reach Sagres, the climax of your cycling holidays, as the country ends there, in Cape São Vicente. Start riding north towards Lagos, by the beaches of Burgau, Praia da Luz and many others and never forget to bring your swimsuit along for the ride, as there will be plenty of options to freshen up on the way. Click here to know more about our Bike tour in the southwest coast of Portugal or explore more about cycling in this area in Rota Vicentina's website.
Cycling in Portugal: Porto and the Portuguese Camino de Santiago ( St James Path)
When to go: May, June, July, September, October
Type of rider: Intermmediate
Bike type: Mountain and hybrid bikes
Terrain type: Mixed terrain
Duration: 5 to 7 days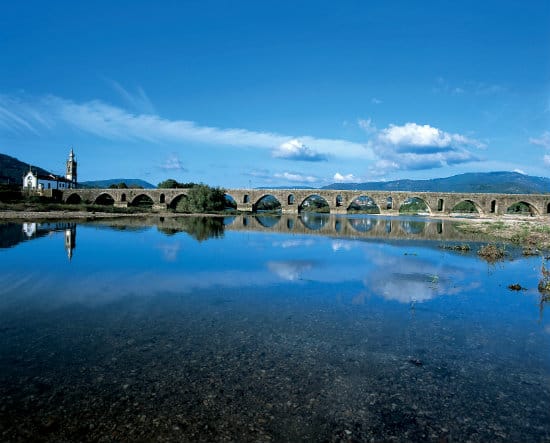 The St. james Path is a religious experience for some riders, but we dare to say that it is a spiritual experience for all of them. Cycling the Caminho de Santiago, whether from France, Spain or Portugal is a milestone for many riders, as the camino leaves its mark in you. The portuguese Camino is best ridden from Porto ( or Lisbon, if you have 15 days total to ride), where you'll get to ride by the northwest of Portugal - the Minho region - and Galiza, in Spain, until you reach Santiago de Compostela. The two best paths from Porto are the Coastal Path and the Central path, both of which ride north - one by the coastline, the other roughy 30km inland, until they connect in Pontevedra, Spain, going all the way to Santiago.
Both Caminos are signaled out by yellow arrows or shells, pointing towards Santiago de Compostela cathedral, making it easy to follow although, if you follow the arrows precisely, you might have to cross some ocassional trails and roads which are difficult. What differentiates the Portuguese path from the more known French or Spanish ones is it's authenticity - the Camino is not as smooth as tthe other might be; on the contrary, it's more raw, authentic and adventurous. The central path will provide you with more historical and cultural depth in the Minho region, as you ride by the beautiful romanic cities of Barcelos, Ponte de Lima and Valença, and is a bit tougher to climb, especially after Ponte de Lima, in the "Labruja" siera. The coastal path is smoother and less demanding on the first days but, if you follow all the yellow arrows, you'll find some technical terrain in the second and third days that might slow your progress. Both paths have varied terrain - tarmac, macadam trails, ancient roma roads, some trails - and are mostly done by forests and rural areas, with ocassional urban areas like Porto, Vigo, etc. The best bike option for the Camino is a mountain or touring bike, because of the mixed terrain - you can do it by road but you won't be able to follow all the indications. Intermmediate to Expert riders might take 4 to 5 days to ride the Camino from Porto, while beginners/intermmediate riders might take 6 to 7 days - everybody can do the Camino, but we advise some preparation, as beginners might need to spend many hours on a bike everyday.
The Camino starts in Porto, the second largest city in Portugal after Lisbon and one of the major urban areas of the Iberian Peninsula. But before you leave and start your journey, you should take your time to taste the famous port and Douro wines, the city's charming architecture and many sights, such as the tower of Clerigos, the amazing Livraria Lello, the old quarters of Baixa with its local shops, restaurants and pastry shops, Ribeira - a quarter by the river Douro facing the wine cellars in Gaia - and other areas. Start to ride from Sé cathedral, either following the coastal path or the central path and discover the Minho region's green wines, local gastronomy, roman heritage and where Portugal started to emerge as a country as it is now, in the 12th century, as the county from which the first portuguese King arose, D. Afonso Henriques, is right here in the Minho. Ride towards Spain's Galiza, discovering the celtic heritage, the "tapas", the amazing seafood and brilliant architecture, until you reach Santiago de Compostela and realize that the Camino never actually ends... 😉 Click to know more about our bike tour from Porto to Santiago de Compostela.
Cycling in Portugal: Azores - São Miguel Island
When to go: March to October
Type of rider: Intermmediate to Expert
Bike type: Road bike
Terrain type: Mountainous
Duration: 5 to 7 days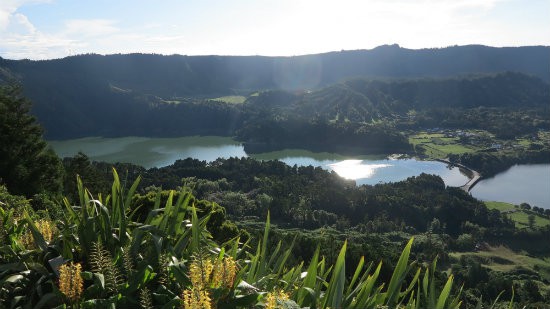 A Bike tour in the Azores archipelago -voted best island destination of the world by National Geographic - is an amazing experience or nature lovers. The 9 Azores, located in the middle of the Atlantic Ocean, halfway between Europe and the USA are the result of the outpouring of lava from the ocean floor, as it stands on the ridge between the tectonic plates of Eurasia and North America. Its subtropical climate, evergreen fields with luxuriant pastures, flowers, endemic flora and fauna make it a great destination for cycling enthusiasts who want to embark in a challenging adventure in one of the most unique and quaint destinations in the world. The island of São Miguel, the Azores' biggest and most renowned island, is probably the most complete destination for cycling in the archipelago, as you'll ride in immensely scenic and great condition asphalt roads, passing by dormant volcanoes, lagoons, tropical forests, thermal and hot sulfur springs, climbing to viewpoints in Sete Cidades, Lagoa do Fogo and relaxing in the best hotels and thermal resorts in São Miguel.
Experienced trail and mountain bikers will find the trails in São Miguel as awesome as demanding, as this volcanic paradise has some steep climbs. But the best ways to get to know the island are probably by walking or cycling on the road, which will allow you to cover more ground and visit the entire island - however, this is not a destination for beginners - a road bike loop from Ponta Delgada to Lagoa das 7 cidades can easily accumulate 1500m of total height, and if you want to climb all the way to Lagoa do Fogo you might easily pack 2000m total climb on a ride - but the views are totally worth it. The best way to explore São Miguel on a bike is by staying in Ponta Delgada, the island's capital, and using it as a base to explore the western and central part of the island. From Ponta Delgada, you can ride to Lagoa das Sete Cidades via "Vista do Rei" or "Lagoa do Canário" and once you reach the amazing vistas, descend into the cauldron's blue and green lakes for one of the most amazing rides you can experience. You can opt on riding towards the northern side, to Santa Bárbara, Rabo de Peixe or Ribeira Grande if you want to go on a less hilly ride.
To explore the eastern part of the island, we suggest riding towards "Furnas", a local thermal resort where you get to experience hot thermal springs, while surrounded by sub-tropical nature - you can ride by the coastline for a less hilly ride or, if you want to make it a big day on the saddle, go all the way up to Lagoa do Fogo - a truly epic climb, topped by an amazing view point - before reaching Furnas. From Furnas, you can ride to "Salto do Cavalo" viewpoint, Nordeste, Povoação and others. These are all tough rides, but it will make it even more special to recover in the hot thermal springs afterwards. Also, make sure you mix your cycling with other activities throught your stay - you'll find São Miguel to be a great destination for nature tourism, as you can join a whale watch tour to watch sperm and blue whales, walk the trails along the volcanoes, the lagoons and hot springs, surrounded by the deep blue color of the ocean and the almost fluorescent green of the pastures and forested areas, visit the only tea plantations iavailable in Europe. The island's trademark gastronomy, based on the tender meats and stews, the amazing fresh fish and seafood that are abundant in this part of the Ocean, as well as the surprisingly good white wines, local cheese and sweet pastries are really worht it too. Click to know more about our Azores bike tours.
Cycling in Portugal: Lisbon's magical Sierras: Sintra and Arrábida
When to go: April to October
Type of rider: Intermmediate to Expert
Bike type: Mountain, road or hybrid bike
Terrain type: Hilly
Duration: half-day to 2 days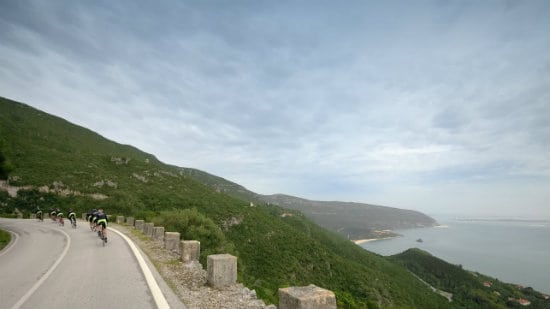 The capital of Portugal, Lisbon, is a beautiful city with more than 2.7 million inhabitants, which makes it the 11th most populated city in Europe. Despite the perfect mixture out of city and beaches, Lisbon is also famous for their rich culture, their local food, their beautiful buildings and the pulsating nightlife. The Castle of Sao Jorge, the Bairro Alto and the Terreiro de Paço are just a few must sees in Portugal's capital. But regarding cycling, the best areas to ride are outside of Lisbon, in the Sintra sierra, north of Lisbon and near Cascais, or the Arrábida Sierra. Both are Natural parks and offer amazing viewpoints, great tarmac roads and bike trails. Sintra is famous for its Moorish ruins, Pena Castle, Quinta da Regaleira and it's luxurious vegetation, making way for narrow roads and trails across it's sierra that overlooks the atlantic ocean, in which you get to ride to Roca Cape, continental Europe's westernmost point.
Arrabida is well known for it's quaint villages, the vineyards, views over Tróia Peninsula and cristaline water beaches like Portinho da Arrábida where you can end your ride by the beach and fresh fish and Azezitão wines. You can explore both regions on road bikes or mountain bikes ( there are great rails and roads in both sierra). To reach Sintra from Lisbon, the best way is to take the train up to the historial center train station, to avoid Lisbon's marginal which is busy with traffic.
To reach Arrábida, the best option is also by train, leaving in Azeitão or Setúbal - you can take your bike in both trains. If you have more than one day in Lisbon, make sure to ride in both Sierras ( and let us know which one you like best, we can't figure that out ourselves). Click here to know more about our Sintra and Arrábida bike tours, or watch our mountain bike video below, fully shot in Sintra and Arrábida:
Want more info?
Vit our website, Live Love Ride - Portugal Bike tours or make sure to contact us at ridewith us (@) liveloveride.pt - we'd love to hear from you!